Personal
Power & Freedom
Engineering
PPFE Part #2
Fundamental Question: What Revolutions are Necessary and How Can They be Engineered?
Introduction
There are three PPFE pages:
If you haven't yet done so, you may want to quickly scan all three pages to get an overall idea of what's on them.
When Governmentologists prohibit certain activities, they may create Gaps. Resourceful entrepreneurs -- including PPFEs -- may be able to Mine these Gaps by enabling customers to perform the prohibited activities in ways that are difficult or impossible to stop -- see Online Poker Report.
The Internet, particularly YouTube, can be used to reach millions of people. For example, millions of people have watched "911-truth" videos online. Irrespective of who the real 911 perpetrators were, 911 can be used as a "Wedge Issue" -- see Potential Market Leverage Segments.
Statistics obtained through Google searches make it very easy to do crude market research to determine the popularity of certain topics. YouTube can be used to contact certain activists with considerable influence and "reach" to their audience.
Ann Coulter can be used as a role model for PPFEs on how to get publicity and improve your impact. If you can attract attention you can "monetize the attention" -- e.g., by selling books, T-shirts, getting advertisers to pay to advertise on your websites, etc. PPFE projects can become profiable.
The "Blasphemy Challenge" could be used as a model for creating a "Political Equivalent Challenge."
The section on "Second Life and Other Virtual Worlds" may provide some pointers on how to "convert large numbers of people to higher levels of freedom and competence.
It's important for PPFEs to recognize that, in addition to Governmentologists, certain people in "corporate business and finance" may be major enemies of freedom -- see Pecking Order Bully System (POBS), Big-Finance & Big-Business. What if most "key politicians" are owned by "corporate masters?"
It may be vital for PPFEs to create several alternative currencies along the lines of e-gold. (Unfortunately, e-gold set themselves up as a "sitting duck." Starting in 2005, Governmentologists were able to raid e-gold offices and servers, and steal millions from e-gold and some of its major customers. It seems that e-gold is no longer a viable business from a PPFE perspective.)
Key Question: In a contest between PPFEs and Governmentologists and their corporate masters, what would make it possible for PPFEs to gain the upper hand?
Grasping the concept of "Pretendities" is most important.
This page suggests certain specific strategies with the intention of "firing up the imaginations" of PPFEs. The idea is to stimulate a wide range of liberation activities all over the world. See also:
More potentially useful questions:
What resources do freedom activists have available to them?
To what extent do freedom activists typically utilize their resources to strengthen the hands of Governmentologists?
How can freedom activists

SHIFT

the utilization of their resources from strengthening Governmentologists to promoting freedom?
See Economic Means To Freedom, particularly Is the Private Sector Really Part of the Public Sector?.
By accident and/or design, Scientologists, Godologists, and Governmentologists take advantage of aspects of "human nature." It may be necesary for PPFEs to gain a superior understanding of human nature. See:
The book The Lucifer Principle: A Scientific Expedition into the Forces of History by Howard Boom -- see also Howard Bloom's Lucifer Principle
The book The Blank Slate: The Modern Denial of Human Nature by Steven Pinker.
Contents:
---
PPFE Central
& the Perfectors
The Grand Perfector of PPFEs:
The Flying Spaghetti Monster
"PPFE Central" is the secret headquarters for PPFEs. The Flying Spaghetti Monster is the "Grand Perfector of PPFEs."
Anyone can be appointed a "Perfector of PPFEs." Historical figures can be "resurrected" as "Revenants" or "Benevolent Pretendities."
If Ann Coulter's activities can be profitable, maybe some PPFEs can emulate her!
The Church of the SubGenius is the Official Church of PPFE Central.
---
Online Poker Report
-- 60 Minutes
-- 30th November, 2008
According to the report, about half-a-million Americans play online poker at any given time, even though it's "illegal" for them to do so.
"We should tell you that this $18 billion industry is illegal in the U.S., but the ban is almost impossible to enforce since the Internet sites and the computers that randomly deal the cards and keep track of the bets are located offshore, beyond the jurisdiction of U.S. law enforcement...

The virtual poker games are actually run on computers servers from a Canadian Indian reservation outside of Montreal. It's all licensed by the sovereign tribe of the Mohawk nation, which has no experience in casino gambling and doesn't have to answer to Canadian authorities.

The grand chief is Mike Delisle.

Chief Delisle says Internet gambling is illegal in Canada, but tells Kroft, "We're not Canadians. We're a member of the Haudenosaunee Five Nation Confederacy. And we're Mohawk Kahnawake people. We're not Canadian."

And that legal distinction has allowed the Kahnawakes to rake in millions of dollars a year by licensing Internet gaming sites and housing their computer servers on the reservation. They now register and service more than 60 percent of the world's Internet gaming activity from a highly protected and nondescript building that used to be a mattress factory..."
What can PPFEs learn from this when it comes to providing and operating alternative currencies -- and providing other useful services some Governmentologists might declare "illegal?"
Can "Virtual Worlds" be set up with their own real-word currencies... that could eventually replace the so-called "US dollar" if it's completely destroyed via hyperinflation?
See also Some Important Statistics.
Ann Coulter is a Secret PPFE (Personal Power & Freedom Engineer) with the official titles:
Perfector of Godless Liberal America and
Perfector of Jews.
Her strategy of making controversial claims (no matter how satirical) is the essence of "PPFE Ridicule Strategy!"
Don't tell anyone: Ann Coulter is a PPFE Secret Agent and Mole. (If you ask her if she's really a Perfector of PPFEs, she will deny it.) Her main job is to make Conservative Governmentologists and Christian Godologists look ridiculous. She's been doing a great job and PPFE Central is very proud of her! See Suggested Strategies to Assist Ann Coulter. (Note: "BEING EXTREME MAKES MILLIONS!")
---
Potential Market Leverage Segments
Google web/video search results (Nov-Dec 07) indicate potential PPFE project participants -- particularly "outside mainstream" -- people already at least partially broken free from "Subjective Social Agreement," or ready to do so. (Note: "15,400,000 / 28,446" denotes 15,400,000 web results and 28,446 video results.)
The significance of these statistics is that there are thousands (sometimes millions) of web pages and hundreds (sometimes thousands) of online videos related to certain topics. Some of the videos have been watched by millions of people. Many of these people may be prospective participants in PPFE Projects.
That certain videos have been watched by millions of people demonstrates that someone can make a video and then use the Internet to get millions of people to watch that video.
YouTube provides information you can use to identify (and often contact) people who like a particular video.
Because they ridicule both Godologists and Governmentologists, anyone who appreciates George Carlin and/or Bill Maher may be a prospect for PPFE Projects.
(Items preceded by an em-dash (—), below, added during Nov-Dec 08.)
Loose Change 2nd Edition Recut - All time views: 7,503,308 (Real perpetrators of 911 not necessarily important to PPFEs -- see Confessions of an Ex-Truther, Screw Loose Change Blog, Screw Loose Change Video, and Debunking 911 Conspiracy Theories).
ZEITGEIST, The Movie - Official Release - Full Film - All time views: 5,280,841 (During Dec 07, was often among top 10 Google videos.)
— Blogging: 91,000,000 / 1,490,000.
— "Video Game": 74,100,000 / 553,000.
— Obama: 329,000,000 / 353,000.
— Mafia: 57,300,000 / 116,000.
— Propaganda: 58,300,000 / 89,400.
— Corporation: 410,000,000 / 65,000.
— "Global Warming": 35,800,000 / 54,500.
— Depression: 90,700,000 / 47,300.
— Oprah: 27,500,000 / 38,800.
— "Second Life": 4,720,000 / 35,000.
"The Secret": 49,500,000 / 31,793.
— "The Secret": 58,300,000 / 95,700.
Atheist Atheism: 15,400,000 / 28,446.
"Elvis Presley": 21,800,000 / 18,810.
"Ron Paul": 1,880,000 / 18,100.
— "Ron Paul": 11,300,000 / 53,700.
"John Lennon": 16,200,000 / 15,333.
— Geronimo: 9,490,000 / 14,400.
— "Mind Control": 6,100,000 / 13,700.
— "Al Gore": 14,800,000 / 12,300.
— "George Carlin": 6,130,000 / 10,800.
— "Leonardo DiCaprio": 7,770,000 / 9,590.
Anarchist Anarchism: 246,000 / 9,568.
— Pocahontas: 7,290,000 / 9,260.
"Alex Jones": 1,530,000 / 8,051.
"Law of Attraction": 1,190,000 / 7,006.
— Brainwashing: 2,150,000 / 6,490.
— "James Dean": 4,520,000 / 6,440.
— "John Wayne": 7,930,000 / 5,620.
— "Online Poker": 17,100,000 / 5,160.
"Howard Stern": 7,050,000 / 4,174.
— "Cosa Nostra": 2,580,000 / 3,450.
Scientology: 7,400,000 / 3,211.
"Blasphemy Challenge": 165,000 / 3,174.
"Jerry Springer": 3,490,000 / 2,832.
"Bill Maher": 2,240,000 / 2,795.
Libertarian: 10,900,000 / 2,793.
"John Denver": 2,960,000 / 2,681.
"Muhammad Ali" 4,050,000 / 2,297.
— "Mark Twain": 12,600,000 / 2,260.
— "Benjamin Franklin": 8,050,000 / 1,940.
"Richard Dawkins": 1,480,000 / 1,932.
"Ann Coulter": 2,970,000 / 1,728.
"Martin Luther King Jr" 5,030,000 / 1,696.
— "Martin Luther King": 17,800,000 / 13,100.
"William Shakespeare": 8,550,000 / 1,541.
— "Paul Revere": 1,540,000 / 1,310.
Discordian: 458,000 / 1,292.
"Guy Fawkes": 765,000 / 1,289.
Malcolm X 3,540,000 / 1,272.
Cthulhu: 6,830,000 / 1,041.

— "Russell Means": 911,000 / 1,030.
"Ayn Rand": 2,620,000 / 1,011.
"Mahatma Gandhi": 3,410,000 / 932.
— "Boone Pickens": 1,010,000 / 865.
— "Arianna Huffington": 1,160,000 / 857.
Objectivism: 984 / 838.
— "Will Rogers": 2,050,000 / 831.
— "John Pilger": 651,000 / 803.
— Gurdjieff: 842,000 / 821.
Coluche: 1,630,000 / 785.
— "Flying Spaghetti Monster": 705,000 / 737.
— "Ted Turner": 1,080,000 / 709.
"Christopher Hitchens": 798,000 / 695.
"George Orwell": 4,710,000 / 693.
— "George Orwell": 5,630,000 / 1,690.
— "Greg Palast": 654,000 / 683.
— Deprogramming: 244,000 / 581.
— "Jane Goodall": 874,000 / 529.
— "Thomas Paine": 1,520,000 / 515.
"Aaron Russo": 326,000 / 510.
— "Daniel Quinn": 242,000 / 492.
— "Sitting Bull": 1,190,000 / 439.
"Kurt Vonnegut": 2,140,000 / 426.
— Antipsychiatry: 117,000 / 420.
"Timothy Leary": 798,000 / 385.
"Milton Friedman": 1,120,000 / 307.
"Robert Anton Wilson": 622,000 / 291.
"Bob Dobbs" -"Lou Dobbs": 72,000 / 224.
Transhuman: 670,000 / 222.
— "Chief Joseph": 433,000 / 201.
— "Jonathan Swift": 1,570,000 / 197.
— "Louise Michel": 1,680,000 / 194.
— Sacajawea: 311,000 / 194.
Booker T. Washington 285,000 / 176.
"Friedrich Nietzsche": 3,580,000 / 172.
— "Emma Goldman": 574,000 / 168.
"Alan Watt" -Watts: 78,200 / 149.
"George Bernard Shaw": 2,560,000 / 146.
— "Beyond Civilization": 37,700 / 141.
"Emperor Norton": 242,000 / 139.
— "Rachel Carson": 671,000 / 138.
— "Dian Fossey": 287,000 / 116.
Pastafarian: 187,000 / 115.
"Church of the SubGenius": 110,000 / 108.
"Jiddu Krishnamurti": 269,000 / 106.
FreedomainRadio: 45,100 / 97.
— "Mary Ruwart": 50,300 / 88.
— "Mafia Death": 25,200 / 88.
"Stefan Molyneux": 47,500 / 69.
Bokonon: 156,000 / 62.
— "Jane Jacobs": 636,000 / 54.
— "Lysander Spooner": 74,100 / 38.
"Murray Rothbard": 168,000 / 27.
— "Carol Moore": 60,900 / 27.
— "Max Stirner": 168,000 / 20.
— "Paul Polak": 18,500 / 20.
"Robert Heinlein": 741,000 / 19.
"Doug Casey": 62,500 / 19.
— "Virtual World Platform": 13,700 / 16.
— "Chief Pontiac": 44,800 / 15.
— "Bill McDonough": 26,000 / 15.
"Harry Browne": 153,000 / 12.
Extropian: 148,000 / 12.
"Buckminster Fuller": 557,000 / 10.
— "Buckminster Fuller": 647,000 / 464.
— "Rose Wilder Lane": 63,300 / 7.
"Celestial Teapot": 12,200 / 6.
"Neo-Tech": 68,500 / 5.
— "Wendy McElroy": 99,900 / 3.
— "Claire Wolfe": 48,700 / 2.
"Arthur Janov": 37,800 / 2.
Anticivilization: 12,500 / 2.
— "Voltairine de Cleyre": 36,500 / 1.
(Note: "12,500 / 2" denotes 12,500 web results and 2 video results from Google searches. Items preceded by an em-dash (—) above, were added during Nov-Dec 08. The others were added during Nov-Dec 07.)
The above numbers can be used to get an idea of what people are interested in, and what they are sufficiently interested in to make videos and post them online. You can use them to design a PPFE Project, to get an idea of how many people might be interested in a particular PPFE Project, and to decide how to present and promote the project. You can get statistics of how often any particular video has been viewed.
Some people upload large numbers of videos to YouTube. Some of these people have significant numbers of subscribers.
As as an example, a PPFE Project could be designed to appeal to Ron Paul supporters (note how "his numbers" have grown from Nov-Dec 07 to Nov-Dec 08). The Internet, particularly YouTube, can be used to contact Ron Paul supporters. Many Ron Paul supporters may be disappointed with his 2008 election results, and my be open to participate in other projects.
(The numbers for "The Secret" may reflect the prevalence of magical thinking and the gullibility of the "Oprah crowd.")
Gerry Spence Quotes
In Gerry Spence's book From Freedom to Slavery: The Rebirth of Tyranny in America, Chapter 5 is titled: "The New King -- The Tyranny of the Corporate Core," from which we quote below. We've replaced Spence's term "entities" with "pretendities", which we regard as a more apt term.
"In furtherance of our conclusion that Earthlings suffer bizarre aberrations of the mind, we report the following: There exists on earth a host of controlling pretendities called "corporations." However, try as we may, we have been unable to demonstrate that these pretendities are alive, that they breathe or feel or that they physically exist. These corporations appear to have no life as we understand life. They seem interested in but one thing, a lifeless paper symbol that measures the worth of all things and all Earthlings -- something Earthlings call "money."

Although corporations do not breathe, they are said to breathe money. Although they have no blood, their blood is said to be money. Although they have no brains, they are said to think money, and although they have no visible mouths, they speak only in terms of money. Although corporations do not live, their lives are devoted to the gathering of money, and although they are soulless, their souls are said to be composed totally of money. It remains an enigma to us that any but the insane could devote the labor of their entire lives to such non-beings. By means of the corporate-owned media, closely censored information is disseminated that portrays the corporate oligarchy as honest and just and also convinces the people it is proper for non-living pretendities to own or control the entire wealth of the earth while the living should be allowed only that which "trickles down." So convinced are the Earthlings of this religion called "free enterprise" that they willingly lay down their lives and the lives of their children to protect the oligarchy that continues to exploit them. ["Oligarchy" denotes a Pecking Order Bully System (POBS) with a small number of bullies at the top. "Plutocracy denotes a POBS with rich bullies at the top.]

...the people are not aware that a New King reigns. They are vaguely cognizant, of course, that there are clusters of monstrous corporate pretendities that seem to control them, but they are no more sensitive to the ubiquitous nature of their enslavement than they are of the unrelenting pull of gravity. In fact, they seem to unconsciously fear their independence of these corporate pretendities, this New King of theirs, in the same way they might fear the loss of their subjugation to the gravitational pull of the earth -- that if gravity were extinguished they might suddenly find themselves flying free with no means by which to affix their feet to the soil."

Chapter 9 of From Freedom to Slavery: The Rebirth of Tyranny in America, Chapter 5 is titled: "Redesigning the Human Mind -- The Tyranny of the Media," from which the following is quoted:

"Ratings are what television is about, not freedom, not truth."
"Corporate America controls our major networks, magazines, and newspapers."
"The selection of news, its focus, its emphasis, its clarity, all deal with a more insidious censorship, one more difficult to detect, one hidden behind scanty details and unimpassioned words that flash quickly by."
"In the end, the media prints and broadcasts in accordance to its business requirements."
"It is, indeed, a quite incredible, yet uniformly accepted phenomenon, one akin to hiring the wolf to guard the farmer's flock of sheep, that the media, owned by our corporate masters, is the sole voice charged with guarding our individual freedom. But in a society dominated by corporations, the people's power to speak freely and effectively and be heard is the last freedom corporations whish to deliver to the people. The history of corporate resistance to freedom began with the Church itself, the first successful international corporation known to the world, and still today the world's largest. Pope Leo XIII said it plainly: "The liberty of thinking and publishing whatever one likes... that is the fountainhead of many evils.""
"Few social psychologists doubt that redesigning the human mind has become the long-term objective of corporate America." [See the "Psychological Control" videos.]
"We love our servitude. But why not? It often feels as good as freedom, and we can enjoy it without the risk that always accompanies the struggle for freedom."
"The corporate oligarchy understands that its power is safe only so long as the people believe they are free, and corporate America has the means -- the exclusive means -- by which to create and sell that fantasy."
"In the end, the most deadly trap of all is a brainwashed mind, for the brain, washed against itself, is powerless."
"The brainwashing has dehumanized us."
"Our minds have also been reformed to adopt a single virulent philosophy, a supposed wisdom -- that to prosper, Americans must support a dribble-down theory of the New King, that to survive, Americans must abdicate their power to the corporate conglomerate."
Pecking Order Bully System (POBS), Big-Finance & Big-Business
Consider the possibility that practically all humans have a powerful and deep-seated "Pecking Order Bully System" (POBS) program, inherited from our animal ancestors. If so, it would be automatic behavior for most people to create hierarchies and to position themselves within these hierarchies. Many people might feel lost if/when they're not part of a POBS hierarchy.
An aspect of the (POBS) program may be: "The word of the top bully is law." This may be so deep-seated and entrenched that it's very difficult, if at all possible, for most humans to let go the absurd notion that, "government makes laws" -- see Smash the Idols of Civilization in your Head!.
Now, consider the possibility that many top Governmentologists are effectively positioned in POBS hierarchies where the top bully is someone in Big-Finance and/or Big-Business. If so, then some of the "Biggest Bullies" would be in Big-Finance and/or Big-Business, and some top Governmentologists would really be "Lesser Bullies" in their respective POBS hierarchies.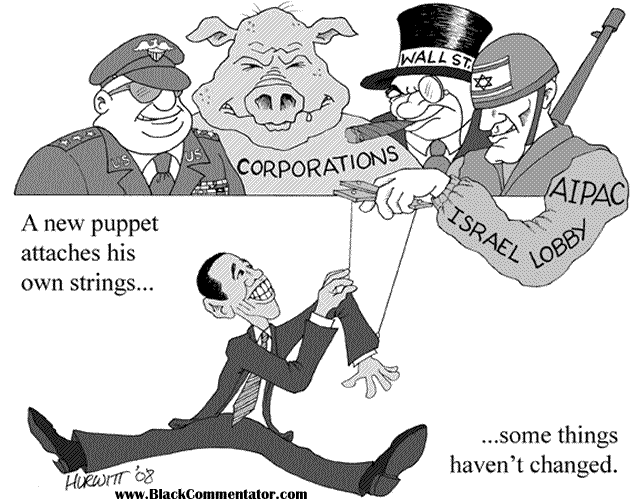 The "corporate media" can be regarded as an important "speaking mouth" of Big-Finance and Big-Business. Many journalists are situated in POBS hierarchies -- and they follow orders from the bullies above them.
Author and filmmaker John Pilger has documented a great deal about journalism and the world's "corporate masters." He also writes some interesting things about Obama.
---
Psychologists and Psychiatrists
Some psychologists and psychiatrists can be regarded as enemies of freedom. A leading author on this topic is Thomas Szasz. In the Introduction to his book Ideology and Insanity: Essays on the Psychiatric Dehumanization of Man he writes:
"Where conventional psychiatrists saw themselves diagnosing and treating mental illnesses, I saw them stigmatizing and contolling persons; where they saw hospitals, I saw prisons; where they saw courageous professional advocacy of individualism and freedom, I saw craven support of collectivism and oppression. In a word, where psychiatrists saw themselves as pioneering leaders of the most glamorous of the helping professions, I saw them as representatives of an especially alarming new breed of agents of social control -- orchestrators of the typically modern medical dehumanization of man and leaders of the hindering professions who peddle therapeutic control in the name of personal liberation."
Szasz coined the term "The Therapeutic Sate" in 1963, and has written a book with this title -- Google: "The Therapeutic Sate" for more details.
See also: the "Psychological Control" videos.
There is an "antipsychiatry movement" -- for some numbers, see "Antipsychiatry" under Potential Market Leverage Segments.
To their credit, some Scientologists (including Tom Cruise) have attacked the "psychiatric establishment" -- see Project Lord Reincarnated Hubbard (LRH).
---
Blogging
One or more
blogs
could be a major element of any particular PPFE project. "Blog" is short for "weblog." It's basically a website where an owner can post articles and have visitors contribute their comments.
To get an idea of the extent of the "blogging phenomenon" or "blogosphere," see the numbers for "Blogging" under Potential Market Leverage Segments.
Arianna Huffington's Huffington Post is reportedly the most linked-to blog on the Internet. There's a book titled The Huffington Post Complete Guide to Blogging.
The Alexa traffic chart below provides an indication of the popularity of the Huffington Post blog. When the chart is "above 500," the blog is among the top 500 most popular of all websites on the Internet.
Nick Richie (a.k.a. Hooman Karamian) launched TheDirty in 2007 "as a way to distract himself from his banking job."